Welcome! ~ If you had an account on our previous website,
Please go to www.discountpond.com/getstarted
Enter Your email address to retrieve your temporary login password.
Atlantic Water Gardens TT-Series Pumps
Asynchronous Pumps combine the efficiency of Magnetic Induction with the power of Direct Drive geometry, keeping operating and ownership costs to a minimum
Atlantic TT-Series pump more water for less watts regardless of water chemistry, making them the ideal choice for water gardens
Compact design fits the tightest pump chambers, perfect for vertical and multiple pump applications
Excellent resistance to fouling in hard water environments and simple maintenance keeps pumps running in adverse conditions
Ribs and large openings in pre-filter and handle provide tremendous surface area for greater clog resistance, decreasing upkeep and increasing pump life
::TECH TIP::
The rotors of asynchronous TidalWave Pumps are water cooled, with a screen to keep grit out of the rotor chamber. Keeping the screen clean will prevent overheating and prolong the life of the pump.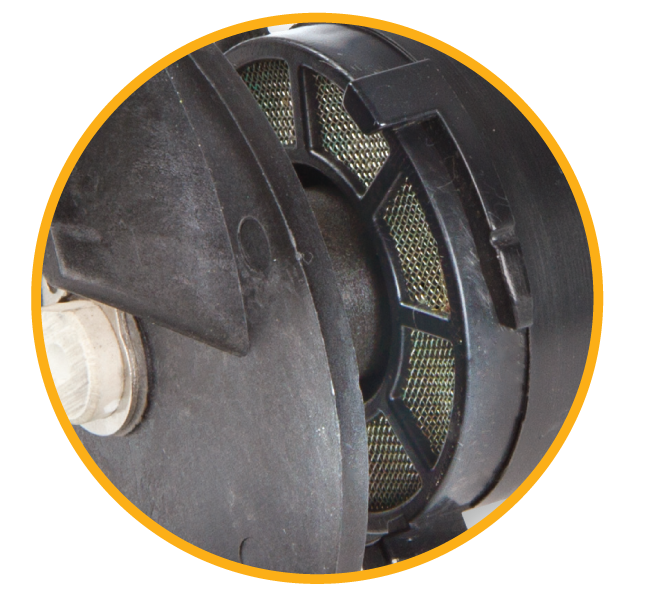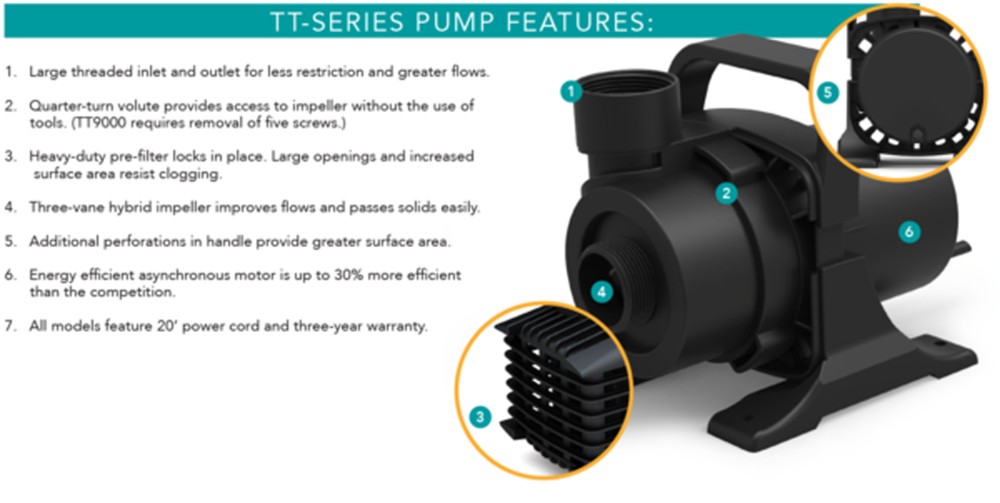 Model: TT1500
Volts: 115
Amps: .88
Watts: 101
Inlet: 1½" MIPT
Outlet: 1½" MIPT / FIPT
Max Pump Flow: 1640
Warranty: 3 year
Dimensions: 8"L x 5¼"W x 6¼"H
Model: TT2000
Volts: 115
Amps: 1.0
Watts: 115
Inlet: 1½" MIPT
Outlet: 1½" MIPT / FIPT
Max Pump Flow: 2640
Warranty: 3 year
Dimensions: 8"L x 5¼"W x 6¼"H
Model: TT3000
Volts: 115
Amps: 1.5
Watts: 173
Inlet: 1½" MIPT
Outlet: 1½" MIPT / FIPT
Max Pump Flow: 3000
Warranty: 3 year
Dimensions: 8"L x 5¼"W x 6¼"H
Model: TT4000
Volts: 115
Amps: 2.0
Watts: 230
Inlet: 1½" MIPT
Outlet: 1½" FIPT
Max Pump Flow: 4490
Warranty: 3 year
Dimensions: 9¼"L x 6"W x 7"H
Model: TT5000
Volts: 115
Amps: 2.7
Watts: 310
Inlet: 2" MIPT
Outlet: 2" FIPT
Max Pump Flow: 5150
Warranty: 3 year
Dimensions: 9¼"L x 6"W x 7"H
Model: TT6000
Volts: 115
Amps: 2.9
Watts: 339
Inlet: 2" MIPT
Outlet: 2" FIPT
Max Pump Flow: 6600
Warranty: 3 year
Dimensions: 9¼"L x 6"W x 7"H
Model: TT7500
Volts: 120
Amps: 4.4
Watts: 520
Inlet: 2" MIPT
Outlet: 2" FIPT / 3" MIPT
Cord Length: 20'
Dimensions: 7¼"W x 8"H
Model: TT9000
Volts: 115
Amps: 5.1
Watts: 587
Inlet: 2" MIPT
Outlet: 2" FIPT / 3" MIPT
Cord Length: 20'
Max Pump Flow: 9200
Warranty: 3 year
Dimensions: 11"L x 7¼"W x 8"H
---