4400VFX Aerating Fountains
1HP Aerating Fountain Great for Mid-Large Ponds
Designed to provide optimum performance with a stunning display, Kasco 4400VFX aerating fountains are proven performers ideal for mid to large-size ponds and lakes. These units are available in a variety of power configurations including 120V (60Hz), 240V (60 Hz), and 220V (50 Hz).
The 8 ft. tall by 26 ft. wide classic Kasco "V" fountain pattern gives this model a beautiful and dramatic display. The 1HP motor is designed for maximum oxygenation to effectively improve the health of your pond or lake.
All 4400VFX Aerating Fountains are easy to install and optional lighting packages are also available to extend the visual impact of your fountain into the night-time hours.
Protect your VFX Aerating Fountain power cord by adding a flex sleeve cord protector. Made of high strength, abrasion and cut resistant polyethylene, these cord protectors will keep your power cords safe from threats like wildlife, fish hooks and weed whippers.
8 ft. tall by 26 ft. wide pattern
Can operate in water as shallow as 19 in. (49cm)
High efficiency design means low power consumption and low operating costs (11.3 running amps on 120V, 5.7 running amps on 240V circuits, 5.9 running amps on 220V 50Hz circuits)
Unique Kasco water-deflecting design delivers industry best clog-resistance
Heavy-duty motor and corrosion resistant design; suitable for salt-water or other corrosive environments
Safety Tested: ETL listed to UL and CSA standards, 50Hz products CE marked
Low maintenance and dependable design
Multiple options for power cord length (see charts below); all SJTOW underwater rated
Two 50 ft. braided nylon mooring ropes included
Ships via FedEx
2 year warranty
4400VFX units come with: 
the C-25 control box with timer,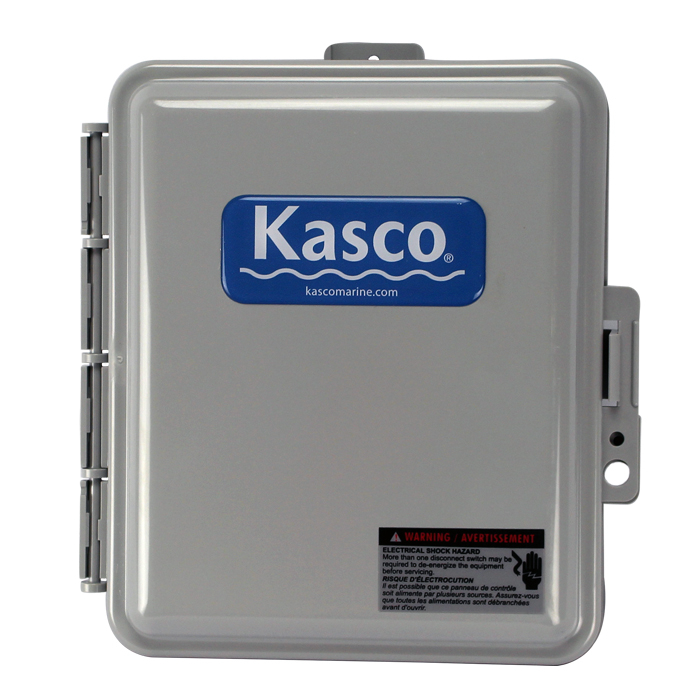 Human Rated GFCI protection, and light sensor to control optional lights.
4400VFX 1HP Aerating Fountains – 120V Single Phase, 60Hz
| | | | | | | | |
| --- | --- | --- | --- | --- | --- | --- | --- |
| Part Number | Cord Length | Voltage | Phase | Controller | Minimum Depth | Amps | Number of Boxes |
| 4400VFX050 | 50 ft. | 120 | 1 | C25 | 19 in. | 11.3 | 2 |
| 4400VFX100 | 100 ft. | 120 | 1 | C25 | 19 in. | 11.3 | 3 |
| 4400VFX150 | 150 ft. | 120 | 1 | C25 | 19 in. | 11.3 | 3 |
| 4400VFX200 | 200 ft. | 120 | 1 | C25 | 19 in. | 11.3 | 3 |

OWNERS MANUAL
---